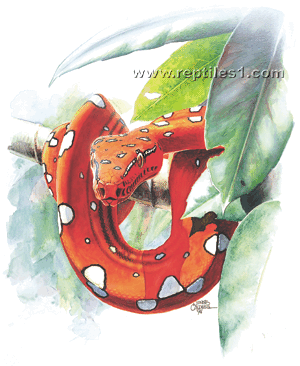 Books on Reptile Health and Care
Home
Information and Critter Care
Book Subjects
Books on Reptile Health and Care (you are here)
Below are listings of books on reptile health and care. Clicking on a book link or 'Show Me' button below will open that page in a new window with information from Amazon.com. All sales are handled by Amazon.com and of course the pricing is the same.
In addition to the book links below you can also search Amazon.com for more books related to your critters or on other topics as you wish.
We always recommend having a 'library' of several books on the same topic to give you a more balanced source of information.
The books are listed in alphabetical order. We will soon be marking books that we have reviewed and recommend. If you are an author and would like us to review your book please contact us.
This page has sections for books on:

Reptile Health and Care
---
---

Biomedical and Surgical Aspects of Captive Reptile Husbandry
by Fredric L. Frye

---

Health and Welfare of Captive Reptiles
by Cliffor Warwick, Fredric L. Frye, James B. Murphy (Editor)

---

Practical Guide for Feeding Captive Reptiles
by Fredric L. Frye

---

Reptile and Amphibian Parasites (Basic Domestic Reptile & Amphibian Library)
by Eric M. Rundquist, Eric M. Lundquist

---

Reptile & the Amphibian Problem Solver: Practical & Expert Advice on Keeping Snakes & Lizards
by Robert Davies, Valerie Davies (Contributor)

---

Reptile Care: An Atlas of Diseases and Treatments
by Fredric L. Frye

---

Reptile Clinician's Handbook: A Compact Clinical and Surgical Reference
by Fredric L. Frye

---

Terrarium and Cage Construction and Care
by Richard D. Bartlett, Patricia Bartlett, Fredric L. Frye (Editor)

---

Understanding Reptile Parasites: A Basic Manual for Herpetoculturists & Veterinarians
by Roger Klingenberg

---

A Veterinary Guide to the Parasites of Reptiles: Arthropods
by Susan M. Barnard, Nixon Wilson

---

A Veterinary Guide to the Parasites of Reptiles: Protozoa
by Susan M. Barnard, Steve J. Upton

---

What's Wrong With My Snake?: A User-Friendly Home Medical Reference Manual (The Herpetocultural Library)
by John Rossi, Roxanne Rossi (Contributor), Philippe De Vosjoli

---
Please feel free to contact us regarding books that you would like to see listed here.
---
| | |
| --- | --- |
| Note: This will search for items that each match ALL words. | |
| | |
---
We are the source for top quality animals.
Why settle for anything less?
---
This page last updated January 25, 2000
---
Home
Information and Critter Care
Book Subjects
Books on Reptile Health and Care (you are here)
---
Copyright © Exotic Enterprises - All rights reserved.